Equipment, Warranty, Financing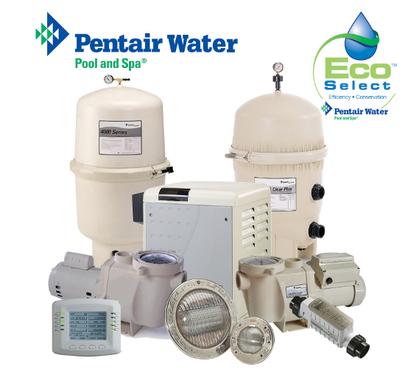 In the world of technology, EMERALD POOLS offers, as a standard, the top of the line equipment, pumps, filters, and heaters. Also, in compliance with the national law that was effective December 19, 2008 (The Virginia Graeme-Baker Pool and Spa Safety Act), all our main drains and covers comply to meet the new federal regulation for anti-entrapment (A112.19.8.2007).
PUMP
Advances in engineering and precision manufacturing methods makes the pumps we use one of the quietest available. They offer top efficiency, fast and easy cleaning, moves larger volumes of water at less cost, and are built for the long run.
FILTRATION
Due to the extensive research in filtration and media science the filters we us make Ultra-Capacity Filtration a reality. The result is a filter system that handles 2- 3 times more dirt than other filters to deliver maintenance-free performance for up to a full season. The balanced flow tank design assures debris is evenly collected by the media – no clogging and long runs between cleaning. When it is time to clean, it is also very easy to do.
HEATER
Unlike other heaters, the one we use offers the latest in technological advances. The patented design increases energy efficiency and decreases emissions into the environment. The heater is certified for low Nox emissions in the State of Texas. Convenient, easy to use controls puts the fast heating to work in seconds. The heater handles the heat and weather elements. It is forever rustproof. With a 84% efficiency rating – rated #1 in its class for highest energy efficiency, this means lower operating costs. With the electronic ignition, you never have to worry about a pilot light blowing out and leaking gas.
LIGHTS
Our standard lights have been the most popular for more than 40 years. There's nothing better than attractive underwater lighting for enhancing a pool's appearance and giving your pool that special night time beauty. The stainless steel shell and face ring are durable and corrosion resistant. Each has a 8- 3/8″ prismatic tempered glass lens for optimum light diffusion. Each has a heat-sensing water cutoff for low water protection. Again, easy to service, all lights allow you to re-lamp without lowering your water level.
As indicated, our equipment package makes the maintenance of your pool minimal. Also, by offering a complete package by the same supplier, your "bumper to bumper" warranty goes from 1 year to 3 years. Some parts of each piece of equipment have warranties up to 10 year. (See the owners manual for details)
WARRANTY
Warranties are very important. All of our warranties are clearly stated on our construction agreement. A warranty not in writing, is not a warranty at all. Also the warranty is only as good as the company, their longevity and reputation. In addition to our Lifetime Structural Guarantee, our gunite company also provides a structural guarantee as well. The structure of the pool is the most important item to be warranteed. Everything else on a pool can be repaired or renovated back to a quality condition but not the structure.
FINANCING
As a result of our longevity and financial stability, we are able to work with lending institutions that allow our clients 100% financing. We also qualify, for our clients that are buying a home, to include the cost of their pool in their first mortgage.
EMERALD POOLS, INC.
Office Hours:
M-F 8:30a - 5:00p (Appts. only)
Evenings & Weekend
Appointments Also Available
Phone: 281-265-3339
Email: [email protected]
Our Reviews
Just A Few Testimonials From Our Clients
Our pool construction started April 15th and was completed within 18 working days. Every day something was happening on our job site from the initial dig to the startup and pool school. Katy called us every morning to review the construction process planned for each day. Noe was on site every day to supervise each step, and communicate any special requirements to the contractors.
We were very pleased with the process as things all came together without any drama and are extremely happy with the outcome. For us, this whole process and outcome were truly a 'Home Run'. We are 'Two for Two' with Emerald and would not hesitate to recommend them to anyone.
I've had two issues (a pump that burned out and a sandy plaster issue) and you responded to my warranty requests very quickly and fully repaired both issues. r have heard horror stories about other pool construction companies that don't return calls and that blame the pool owner for any issues.
Again, thank you for designing such a beautiful pool for us!
Request A Consultation
Looking to buy a swimming pool? Let one our reps set-up a consultation for you.